Catalog and Rights Management
Flexibly manage extensive catalogs.
Easily create releases using our simplified forms. Manage all of your contracts, labels and digital music audio and video catalogs in one place. Easily migrate catalogs from other CMS, distributors and supply chains using the Labelcamp API and DDEX ingestion feed.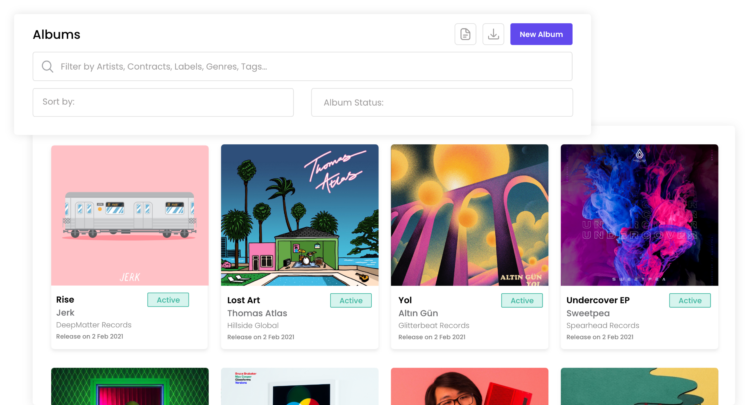 State-of-the-art metadata.
Deal with the ever-growing complexity of digital music metadata, add instruments and roles to your release credits thanks to Labelcamp's rich, evolutionary, metadata set.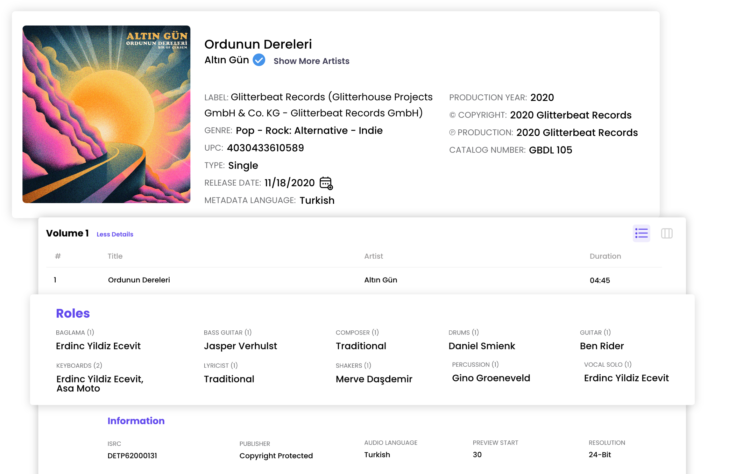 Set complex rights with a few clicks.
Labelcamp is designed to meet the needs of global distribution companies. It offers a very granular management of territorial and DSP rights at the contract, label and release levels.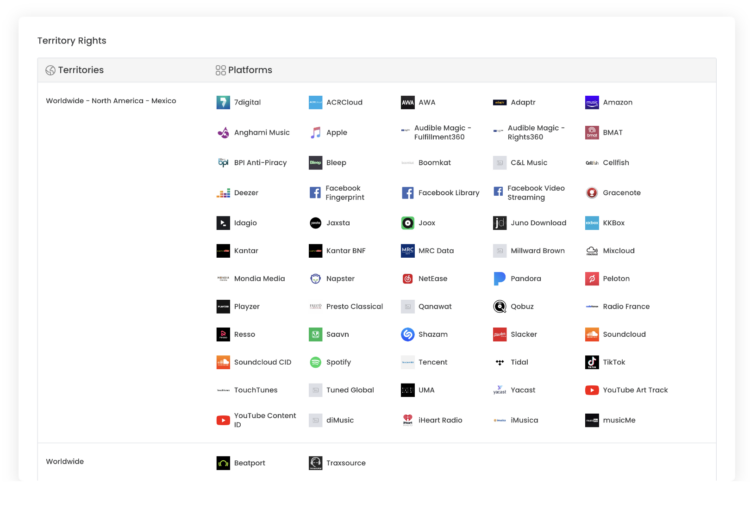 Submissions Module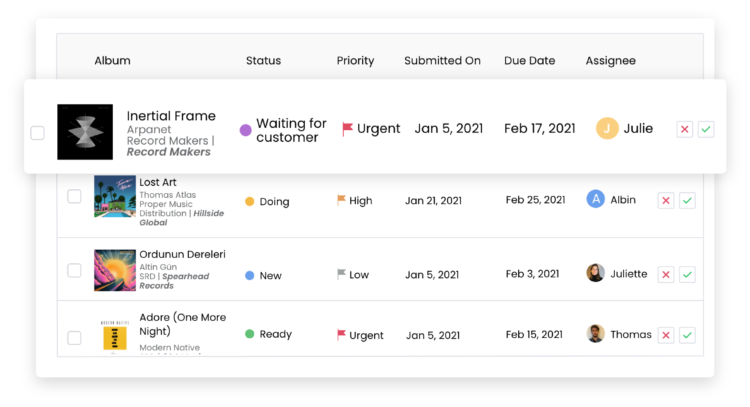 A unique feature: the Submissions tool for new releases.
Labelcamp lets you track large volumes of releases uploaded by any team, anywhere. The workflow is designed for content owners and distributors, with efficient prioritization and approval tools.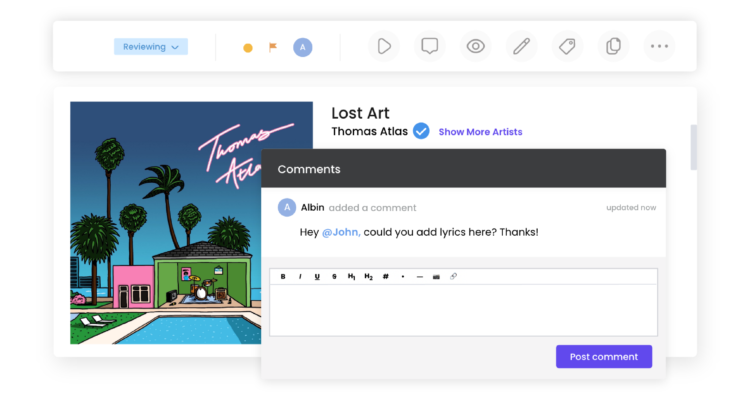 Add comments, and be notified with each significant action.
Post messages on releases to communicate with other users involved in the lifecycle. Receive notifications on key events, and stay on top of any actions or changes made to your albums.
Content Delivery
Deliver 24/7, have your releases go live in hours.
Send your audio, HD audio, Dolby Atmos or video content to any delivery points with absolute autonomy. Bulk deliver large batches of content to multiple platforms, monitor operations and benefit from the fastest delivery times. The scalability of our cloud infrastructure makes it happen.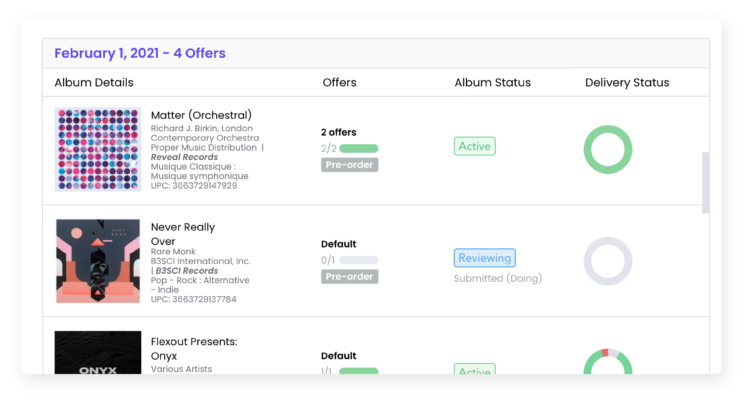 Distribution control with the highest resolution.
Customize your distribution settings per service and territory. Moreover, you can employ the latest features of DSPs in support of your marketing strategies. Set global timed releases or schedule exclusive premieres with a few hassle-free steps.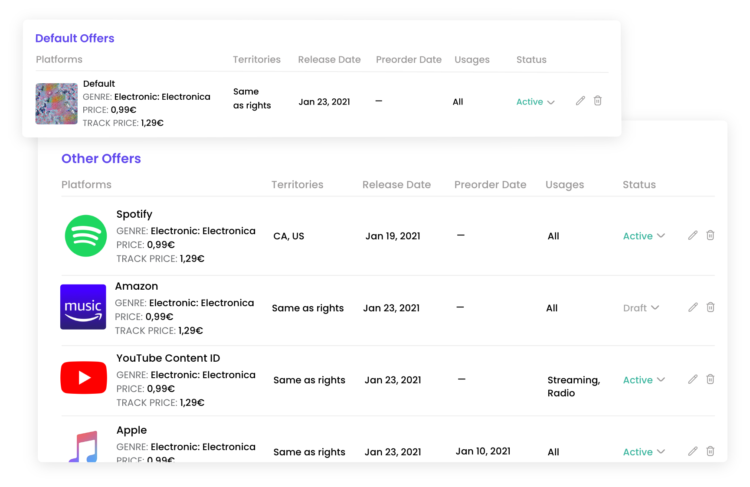 Simplified management of updates and takedowns.
Labelcamp's smart delivery system makes the maintenance of your catalogs on digital platforms easy. Stay in control of releases that are live on the services by quickly and safely managing your updates, full asset redeliveries and takedowns to the services.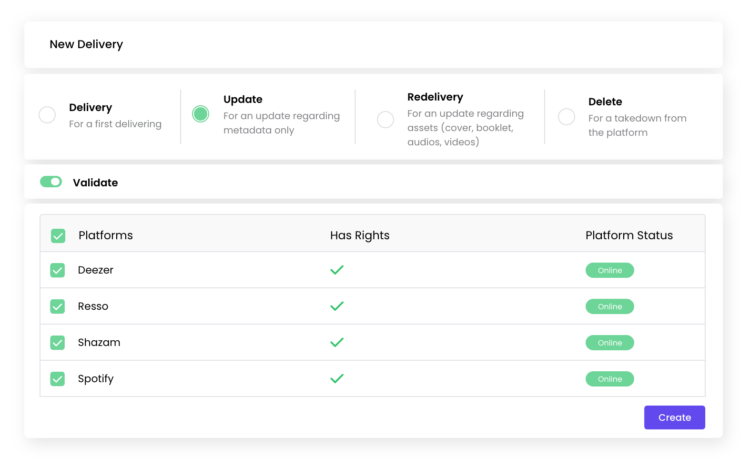 Make your music available everywhere!
Integrate any delivery point, regardless of the metadata format or upload method. Labelcamp adapts to any DDEX implementation, proprietary XML or partner API. Beyond your direct partners, take advantage of our parent company IDOL's distribution network to extend your DSP coverage.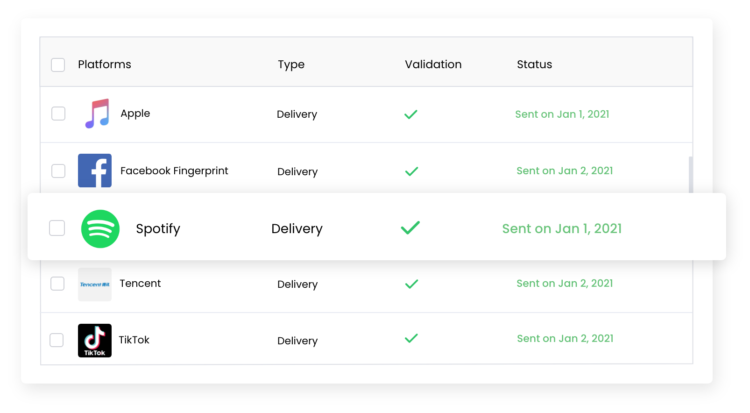 Sales Reporting & Analytics
1
Ingest revenue statements from any online partner.
Labelcamp lets you process sales reports from all your distributed music platforms and digital partners. Its ingestion parsers automatically recognize the format of any statement.

2
Our unified database captures every line of transaction.
Match millions of sales transactions to your products with a fully integrated reporting tool, permanently in sync with your catalog. Bulk-assign transactions for unrecognized products.
3
Report sales to your distributed partners.
Labelcamp makes it easy to consolidate partner sales, calculate label shares and provide transparent, readable royalty reports to your distributed partners.
4
Transparent, detailed sales-revenue analysis.
Labelcamp's powerful financial analysis tool breaks down sales revenues from all services. The advanced filtering system lets you track, categorize and analyze sales data by usage, territory, artist and more with the greatest resolution.


Daily Trends
Track and analyze your daily streams.
Observe daily trends through the use of powerful analytics and sophisticated filtering. Identify top-performing catalogs, genres, artists, services, territories or sources of streams. Turn complicated data into simple but actionable insights.
Easy access to all of your playlist data.
Labelcamp lets you identify playlists that stream your content. Analyze tracks consumption, skip rate on each playlist to discern the most appropriate musical genres, artists. Spot editorial playlists that ensure the best results. Receive alerts when tracks are featured on new playlists.